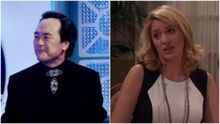 Krashing Krane is the 19th episode overall of Elite ANT Force.
Plot
When the Elite ANT Force finds that Bridget has reformed Dr. Gao after they rescue her, they begin a huge battle with Gao-Krane to force Krane out of Gao's body. Meanwhile, Angus, Chase, and Tina do job interviews-but the people they interview may not be who they seem.
Cast 
Main Cast
Jake Short as Oliver and Fletcher Quimby
China Anne McClain as Chyna Parks
Bradley Steven Perry as Kaz Duncan
Sierra McCormick as Olive Doyle
Paris Berelc as Skylar Storm
Kelli Berglund as Bree Davenport
William Brent as Chase Davenport
Aedin Mincks as Angus Chestnut (Also starring credit)
Recurring Cast Edit
Hal Sparks as Donald Davenport
Chase McFly as Jesse McFly
Ariel Winter as Tina Figgenbottom
Jamie Denbo as Bridget Bernstein
Jeremy Kent Jackson as Douglas Davenport
Cole Ewing as "Amous"
Joel Michael Kramer as "Charles"
Marissa Cuevas as "Nina"
Ping Wu as Gao-Krane

Graham Shiels as the voice of Victor Krane
Trivia
The events of this episode were erased after Memory Wipes, and it is unknown how an alternate version would fit The Ricardo-Krane paradox.
This is the first time that Tank, Lexi, and Sebastian appear.