Max Russo is a main character in Suite Life Of Time Wizards: Elite Force Meeting World.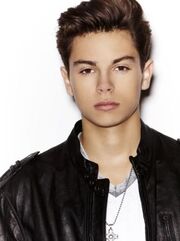 Bio
Zack calls Max and his sister Alex to the wedding. Max got sick of having no powers. So he got a group to go back and make him the family wizard and Alex, who is married to Mason, the headmaster of Wiztech. Max then ended up falling for Bailey. Maya becomes Max's best friend. The two of them use their spells frequently to help the team. Then, Max visited the alternate reality. He also remembered his girlfriend Talia had moved to Arles. They have a long-distance relationship. Alex and Max went through a crazy time with the voices.
Personality
Max is known to be very crazy and mischievous.
Spells
"Crazy, crazy, nice and hazy, make (name)'s hair look like a Mazey!"-Used to mess up people's hairstyles.
Voice, Voice Come on back, the trio needs their voices back!!: Makes people's voices return