Oliver's Bionic Dilemma
is the 10th episode overall of
Elite ANT Force
.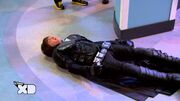 Plot
Cast 
Main Cast 
Recurring Cast
Trivia
As of this episode, Oliver has bionics, Ricardo is dead, and Bridget is good.
In this episode, Chase shows he truly cares for Oliver, a trait he had in neither Lab Rats: Elite Force nor Lab Rats: Bionic Skylar. In Elite Force Season 2, Chase and Oliver became much closer, contradicting their status at the beginning of this series, where they hate each other.
This episode has been refused airing in several countries, and Oliver's death scenes were censored in others.
This is the first episode that is rated TV-14.
Donald is the one who gives Oliver bionics, as Douglas tells him how to do it.